Creating Brand Visbility Using 4 Custom Flyer Types
Apr 21, 2020   .   4 mins read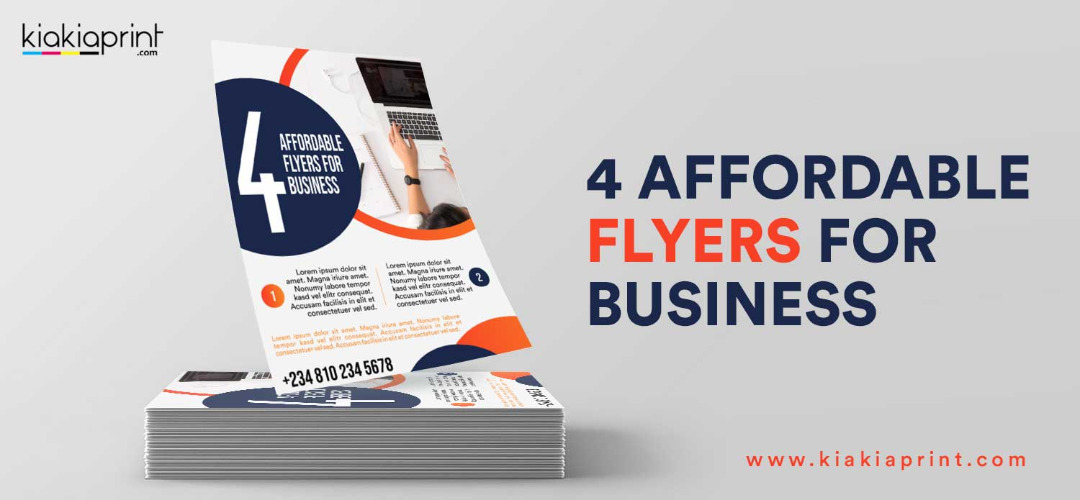 Flyers are a ready and available means of advertising. They are easy to print but can pose a challenge when a large quantity of them is needed. Kiakiaprint brings a solution to this challenge.
Looking for where to print affordable flyers is a thing of the past with Kiakiaprint. Kiakiaprint's web to print platform provides easy and fast methods to all print services.
With our digital machine which provides quality print and our Offset machine which can cater to over 10,000 flyers, printing flyers in bulk is quite easy. However, there is a need for you to know and understand the types of flyers that exist and the ones that are suitable for your business.
In this article, we would be sharing an insight into the 4 types of flyers and the most affordable ones for your business.
What are Flyers??
Flyers are printed leaflets which are used to advertise a brand or business. They printed using either Art paper or Matte paper depending on preference and purpose.
Types of Flyers
There are various types of flyers for your every need. There are handbills, single-sided flyers, double-sided flyers, and pamphlets.
Handbills
These are smaller flyers that are used for small scale advertising. They are usually designed using minimal information for the brand. So, if you are a startup or an SME with little funds to spare on advertising, this is for you. They are made in A6 sizes.
Single-sided Flyers
These are flyers printed on a single page of paper. They are usually designed with more information about the brand or business. This is suitable for all kinds of businesses.
Double-sided flyers
If you are looking to advertise a big event or service that runs over a season, then double-sided handbills are for you. Double-sided flyers are flyers with designs on both sides of the paper. They occupy more information about the business and other related matters.
Pamphlets are quite similar to handbills, the only difference being the size. They can occupy more information than handbills but are very suitable for small businesses on a low advertising budget. These can come in A5 and A6 sizes
Flyer sizes
Depending on your choice, flyers range from A6 sizes down to A4 sizes. That is, we have handbills and pamphlets which come in A6 or A5 sizes and single-sided and double-sided flyers that come in A4 to A5 sizes.
Printing Flyers
Flyers can be printed using 2 methods. There is the digital print method and the offset print method. At the Kiakiaprint campus, both methods are available depending on quantity and need.
Digital print
This is the printing of the design directly on paper with the digital machine. Digital printing is suitable for small scale- flyer printing. It enhances the quality of design and allows the use of multiple colours in printing. However, it is more expensive than offset printing.
Offset Printing
Offset printing involves the use of a plate on which the design is placed on then covered in ink. This is suitable for large scale printing and is more affordable.
From Design to Print
With Kiakiaprint, your flyer designs can go from design to print. With the new canva design studio from Kiakiaprint, you can now create amazing flyer designs. If you are seeking for expert service, you can hire a designer for a small token. Also, we have some design tips to aid your flyer printing.
Use bright colours
A flyer is a one-glance advertising item. When creating a design, there is the need to use bright colours that would catch your prospects and clients at one glance. Also, you need to note that when using your brand colours, the accurate shade and tone must be used. Most print machines like the digital print machine use the CMYK colour pattern.
Use Bold Fonts
your message must be bold enough for one to see and grasp. So, whether it's a sale, an exhibition, a product or service you are advertising, your design fonts must be legible. Most especially, your copy or keyword must be designed in a large font. You can go artistic with your font but not overboard.
Images
If there must be images in your design, they must be of a high resolution. Most designers recommend the use of image formats like JPEG or PNG.
Print Affordable Flyers with Kiakiaprint
Kiakiaprint provides unrivaled quality when it comes to flyers. However, we do not break your back or bank to do it. So, order our flyers today or send us a mail at info@kiakiaprint.com. You can also reach us on all our social media platforms, Facebook, Instagram, Twitter @kiakiaprint.