5 ways your branded Notepads can be used
Apr 22, 2020   .   5 mins read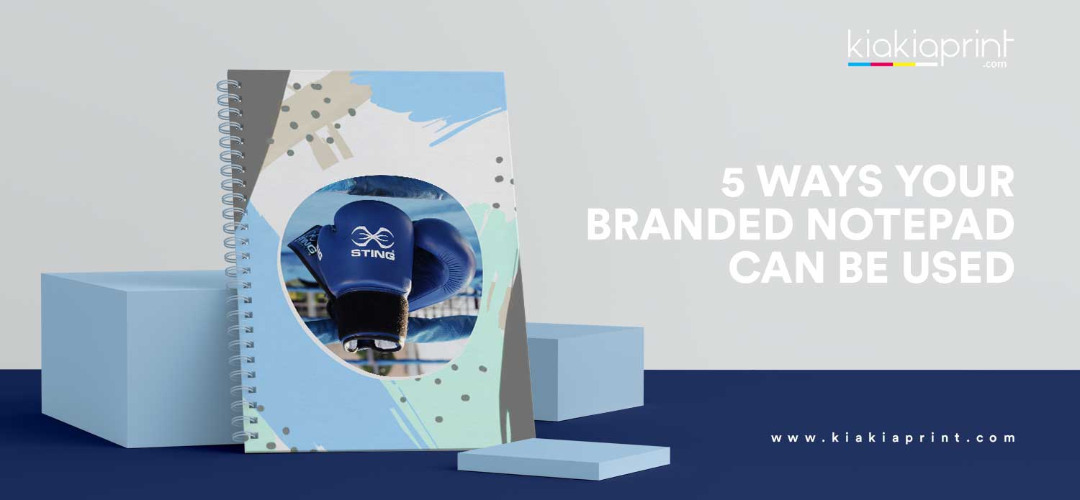 Branded notepads are luxury brand promotional items. They are also exotic as they have a variety of uses. As exotic and great branded notepads maybe, a dilemma can arise when trying to print them. There is the quest for quality that sometimes can not be seen just anywhere.
A solution has emerged with Kiakiaprint.com. Kiakiprint is an online print shop creating an evolution in the printing landscape. Kiakiaprint's web to print platform provides an easy method of printing all branded merchandise from the comfort of your home or office.
Kiakiaprint has a knack for quality, so you can be assured that your branded notepads would be printed with premium quality and class. Like our motto says "the only thing we don't print is money", we are quite vast in the knowledge of all things print. We would therefore, in this article be sharing global insights on how your branded notepads can be used.
What are notepads??
Notepads are bound writing papers with covers. They are a type of stationery and can come in a variant of types and sizes. They are quite handy and very useful especially for notes taking and other writing purposes.
Types of Notepads
Notepads are classified based on covers and final outlay. There are spiral notepads, popularly known as jotters and then, Hardcover notepads. These can further be divided into journals, planners, sketchbook depending on its use. Other print specifications for notepads include the structure of the inner sheets. Notepads can be ruled, blank, or squared depending on use.
Spiral Notepads
These are notepads bound together by the use of a spiral cord. They may the same inner sheets as the hardcover notebooks but the binding and most times the covers are very different. They are usually made in smaller sizes like A6 or A5. Spiral notepads are cheaper and easier to print.
Hard Cover Notepads
Hardcover notepads are made with thick, hardcovers. They are usually bound with printed wire. However, they can have sewn bindings, disc bindings, comb bindings, spiral bindings, or perfect bindings depending on choice. The covers are made with thick quality leather and are usually smooth with a luxurious feel.
At the kiakiaprint campus, our offset machine is able to print both spiral notepads and hardcover notepads.
Other Notebook Types
Notebooks can also be classified based on usage and some of such include:
- Legal Pads: these are ruled notebooks which are used for writing memos or recording notes.
-Exercise books: these are notebooks used to copy down notes in school
Using Your Branded Notepads
There are various ways your notepads can be used. However, we would be listing 5 ways your branded notepads can be used.
For Corporate:
Your branded notepads can be used for your brand as:
A promotional item
with the cover of your notepad designed using your brand logo and colours, it's almost impossible to miss. You can create a professional item while promoting your brand alongside. Uing your branded notepads during discount and festive seasons adds a classy flare to your brand.
A personalized gift item
It's the end of the year and you are wondering what to give to those amazing customers and staff that has helped you all through the year. Well, branded notepads are an ideal gift item. They can be customized to give it a more personal and officious feel.
For Personal
A luxury gift item
your valentine gifts, birthday gifts can go beyond the usual. Gift that special someone a branded notepad with a designed image of them on the cover. This creates a personal feeling .
A thought pad
Notepads come in smaller sizes and can be carried around and so when that amazing idea or thought hits you, slap it into the notepad. With a printed notepad, you can never lose sight of those amazing dreams and goals
A sketchbook
As a fashion entrepreneur, penning your designs in scraps of paper or plain exercise books is just plain tacky. Get a printed notepad and give life to those amazing designs in your head. It can also function as a mini portfolio for your brand.
Design for Effect
Branded notepads are a luxury item but with a horrible design, it can just look like scraps of binded paper. Designing your notepad is very important and therefore, there are important elements of your design you need to focus on, such as:
Design colour
It's a branded notepad, so your brand colours would be used for the cover design. It is important to note that the inner sheets of a notepad are usually not designed. Therefore, your cover design must be colorful and attractive at first sight. There is a need for your brand colours to blend adequately.
If all this sounds like jargon to you?? Not to worry, we have amazing design services. You can hire our designer for a token.
Brilliant Font
No design can exist without a text. The font of your design text must be legible regardless of how artistic you want it to look. You don't want people confusing your brand because of a font that's not clear.
Images
For personalized branded notepads, images may be used in the design. It is important that whatever images you want to use, they must be of a high resolution to avoid being blurry on the design. We also recommend image formats like JPEG or PNG .
The Online Notepad printer
Looking for where to print notepads from anywhere in the world ??? Well, kiakiaprint is the ideal notepad printer!!! Reach out to us today by sending us a mail at info@kiakiaprint.com or send us a message on Facebook, Instagram and Twitter @kiakiaprint