Popular Greeting card Categories
Apr 22, 2020   .   5 mins read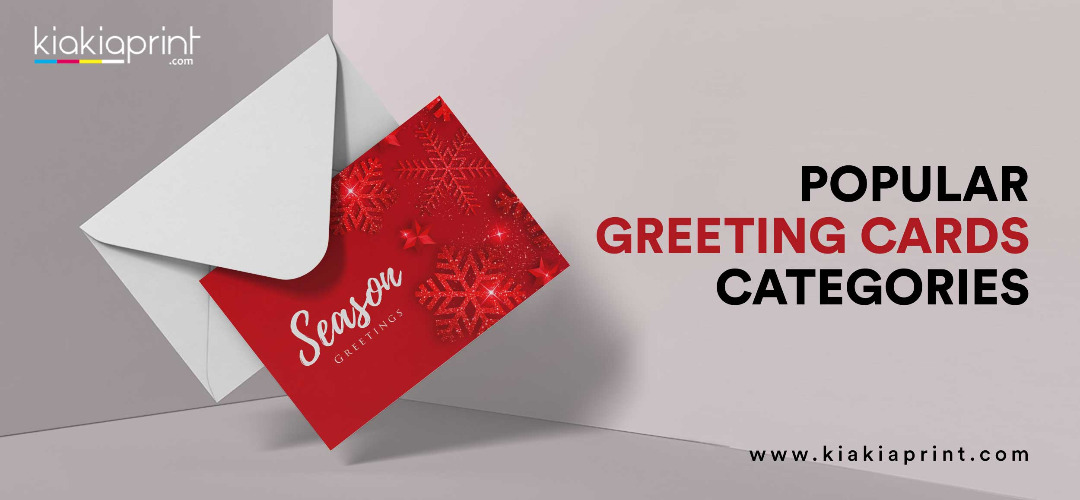 Looking for a special gift to give your loved one??? Something to blow their minds on that special day?? Well, we have got a secret item, GREETING CARDS!! Yes, greeting cards.
Greeting cards are a unique gift item that creates the fondest memories especially with their ability to be customized. When we say greeting cards, we don't mean any greeting card.
Think of a Kiakiaprint-produced greeting as your magical item. Kiakiaprint, an online print shop with a print campus equipped with state-of-the-art printing machines and provides online printing services from the comfort of your home and office. Our greeting cards are custom-made using the finest card stock and premium quality. Our greeting cards sizes range from A6 to A5 sizes and we also have electronic cards popularly known as speaking cards.
What are greeting cards?
A greeting card is an illustrated piece of card stock or high-quality paper featuring an expression of friendship or other sentiments. Greeting cards are used mostly for special occasions like birthdays, Christmas and other festive occasions.
Greeting Cards Types and Categories
Greeting cards vary based on use and certain exotic features. Examples of greeting cards categories include:
Standard
These are regular greeting cards printed with quality card stock and designed with minimal information. They are usually rectangular or square in shape and folded in halves. They are simple and easy to print.
Personalized/Custom made
Personalized cards are designed with images of the card recipient and personalized messages. They are also printed using high-quality card stock. The images can be printed digitally or made with digital-press which gives the design a 3D look. At the Kiakiaprint campus, most of our cards are custom made cards. With an efficient digital print machine, your images come out in clear colours.
Speaking Cards
Speaking cards are unique audio self-playing cards. They were previously known as musical or electronic cards. These are made with a battery-operated sound recorder that is coupled within the card. Audio is recorded into the sound recorder and coupled into the printed card, so when the card is opened, the audio rings out. Speaking cards are not very popular but can be gotten from online card stores like Kiakiaprint.
Postcards
Postcards, although slightly different from greeting cards are functional cards that contain messages. They can be used as message cards for other gift items. Rather than send your gift item with a random paper note, postcards are an effective message tool. They usually come in A6 sizes.
Greeting cards sizes
Greeting cards come in different sizes such as A5 and A6 sizes. Our A6 greeting card prices start at 8,499 and our A5 sizes start at 12,499 for 50 pieces.
How are greeting cards made ??
Greeting cards are made using the digital print method. Made from quality card stock which is about 300gsm and 600gsm in weight.
Digital Print
Digital printing involves the transfer of the design or artwork to the digital print machine via the web or any other electronic means. The card is then inserted into the machine and then the design is printed on it.
Lamination Type
There are 2 main types of greeting card lamination. There is the gloss lamination which gives your greeting card a shiny acetate look and the Matte lamination which gives your greeting card a dry-solid feel. However, in some situations, Foil stamping can be used as a finish type on your greeting card. Foil stamping adds a brilliant glean to your greeting cards and makes it appear more professional.
Designing Your Greeting card
Design is the soul of any print item. Creating a design is not a herculean task especially with the advent of our easy to use design studio from Canva. However, you can get beautiful designs by just hiring our designer for a token. On the other hand, if you would like to try your hands at designing your greeting card, here a few tips to help you out.
Colours Matter
Colour is the soul of your design and so your greeting cards must-have colours that pop. Greeting cards are personalized items, so there are no restrictions in terms of brand colour or any other brand fixture. So you can select from any colour you like. However, bright colours are preferable when designing a greeting card.
The Font Business
Your greeting card would be useless if the recipient can't read any of the heartwarming messages on it. Therefore, regardless of how artistic you might want to be, your fonts must be legible and clear for one to read.
Quality Images
When designing personalized greeting cards, images are a key factor. Therefore, your images must be of a good quality. Your images must be of a high resolution and come in digitally acceptable formats like JPEG, PNG etc.
Print With Kiakiaprint
We are easily accessible online and we not far from your home or office. Print quality greeting cards with Kiakiaprint. Our design studio is efficient and able to cater to all your DIY design exploits. Send us a mail today at info@kiakiaprint.com or a message on Facebook, Instagram and Twitter @Kiakiaprint.